What does the Federal Council propose in its 2050 energy strategy and at what cost?
The Federal Council has developed three scenarios for energy transition up to 2050. These scenarios determine three plausible futures for energy demand, based on three broad policy directions. They are by no means predictions of our energy future. With such a distant time horizon, it would be too risky to base a national strategy on predictions, as the uncertainties are so great.
These scenarios rightly consider the energy system as a whole, without focusing exclusively on the challenge of nuclear phase-out. These three scenarios are as follows:
The "Continuation of current energy policy" scenario extrapolates from current trends. It does not introduce new policy measures to control the evolution of energy demand, other than those already planned. The development of renewable energy is relatively slow due to a lack of incentives.
In the "Federal Council policy measures" scenario, consumption is expected to decline, primarily through improvements in energy efficiency, using existing technologies, particularly in the building and transport sectors.
The "New Energy Policy" scenario aims to achieve a massive reduction in energy consumption and greenhouse gas emissions by means of a proactive policy. This commitment is reflected in an accelerated diffusion of new renewable energies and new energy efficiency technologies. This scenario requires that greenhouse gas reduction targets be harmonised with those of the European Union, in order to avoid penalising the competitiveness of Swiss companies.
These three scenarios have a crucial common objective: a reduction in energy consumption compared to the reference year 2011 [→ see figure below]. The rate of diffusion of renewable energies and energy efficiency technologies varies, however, depending on the incentives provided for in each of the three scenarios. However, in none of the scenarios are these measures sufficient to fully cover the electricity deficit resulting from the shutdown of our nuclear plants. This shortfall will have to be covered either by the construction of natural gas-fired power plants in Switzerland (4 to 9 power plants planned according to the scenarios) or by electricity imports in winter (up to 7 TWh, depending on the variant).
The federal government's "Energy Strategy 2050" focuses on the objectives of the "New Energy Policy" scenario. In order to achieve these objectives, the Federal Council defined an initial package of measures in 2012 which aims to strengthen the implementation of energy efficiency programmes in the areas of buildings, domestic appliances, industry and mobility, as well as the development of renewable energies. The implementation of this first package of measures requires a complete revision of the Energy Act as well as adjustments to nine other federal laws. This is a complex legislative procedure. The draft was submitted to Parliament in September 2013. A second package of measures, which should include ecological tax reform, will concern the post-2020 period [→ Q84].
The Federal Council has estimated the economic costs of restructuring our production infrastructure, building new facilities and measures to reduce the demand for electricity at around CHF 200 billion up to 2050, or around CHF 5.5 billion per year, which represents about 0.9% of our gross domestic product (GDP).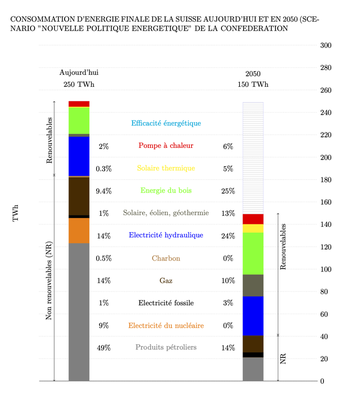 References
Office fédéral de l'énergie (OFEN) (2013)

Office fédéral de l'énergie (OFEN)

(

2013

). Perspectives énergétiques 2050.